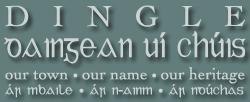 Dingle: Our Town - Our Name - Our Heritage
DINGLE DAINGEAN UI CHUIS.
If you would like more information about the Dingle peninsula, please visit the Dingle Peninsula Web Site.


THE TRUE ORIGINS OF THE NAME DAINGEAN UÍ CHÚIS
Email (Your letters to Us)
5/15/2005
The O Sheas and their cousins the O'Falveys were descended from Corc who gave his name to Corcu Duibne. The O'Sheas held territory on the south side of the Dingle peninsula , and the north and west of the Iveragh peninsula. It is believed they were a branch of the Earna or Erainn, themselves a branch of the Fir Bolg or Belgae who came to Ireland 500 to 300 BC. Circa 1200 AD, the tribe was known as Aes Iorruis with the additional name of Tuaiscirt for Corca Duibne and Deiscirt for Iveragh. Most settlements were small family farming units within Raths or Lioses and extended families in Cahers (stone forts).

As late as 1815, Caherciveen consisted of only 5 houses. By 1835 the population was 1,200. Almost from pre Christian times local agricultural products were exported and luxury goods from the continent imported from nearby small sheltered bays such as Dingle. As early as 1287 taxes from this little port amounted to one percent of the national revenue. Never the less, even then smuggling took place especially with Spain . In 1585 Elizabeth I of England granted 300 Pounds to wall in her new borough here, to try and bring order to the area and protect the new settlers.

In Irish, Dingle was always known as Daingean Uí Chuise . Based on the works of the famed historian Miss Hickson about 1900 (see my article in our March newsletter, entitled "Musings on O'Shea Orgins"), I submit that "Daingean Uí Chuise" translates as: " The Settlement of the O Sheas ". Dingle was granted a Charter by James I in 1608. In 1765 Parliament granted 1000 pounds to build a town pier. About this time it had its own identifiable coinage. A cottage industry for linen as well as a local mill were developed, fostered by the Knight of Kerry. Dingle has for some time now been going through a phase of redevelopment for tourism!

So, a town with a significant place in Kerry history is getting a chance to decide its future name and perhaps its destiny?
Brian O'Shea
Cork
www.osheaclan.com