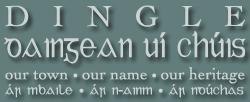 Dingle: Our Town - Our Name - Our Heritage
DINGLE DAINGEAN UI CHUIS.
If you would like more information about the Dingle peninsula, please visit the Dingle Peninsula Web Site.


BIKE EVENTS COME TO DINGLE
Email (Your letters to Us)
2/23/2006
Each year since 1999 we have been bringing cyclists, mainly from the UK, to County Cork and County Kerry, and run a bike ride in September which finishes in Dingle, spending two nights in the town.

Here in the UK a lot of people have heard of Kerry and of Dingle, and it is a good thing for British people to visit and learn about Ireland's past and the role the English have played as many British people are unaware of what the British have done to the Irish people, though nonetheless we have always enjoyed a very warm welcome in the republic.

It is important to learn the Gaelic names for place, but having a dual listing of names helps visitors to navigate, and find their way, as well as showing what the Irish name is and how it was anglicized. So you could argue that abolishing the anglicized names will make life harder for visitors and hinder their understanding of the Irish language.

Good luck!
Paul Hobbs
Bike Events
www.bike-events.com