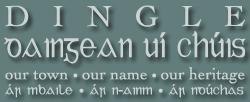 Dingle: Our Town - Our Name - Our Heritage
DINGLE DAINGEAN UI CHUIS.
If you would like more information about the Dingle peninsula, please visit the Dingle Peninsula Web Site.


After weeks of misinformation and synthetic anger…
The Irish Times (The Dingle Letters)
11/3/2006
Madam, - After weeks of misinformation and synthetic anger, it is time for the people of Dingle to actually consider the consequences of their actions.
As a frequent business traveller to Ireland, I'm offended that campaigners in Dingle have regularly claimed that a "yes" in the plebiscite was necessary to prevent "confusion" for tourists. The average traveller to Dingle is not so stupid, and I for one resent being co-opted into a local dispute.
I also resent the assumption that foreign visitors know and care little about Ireland's beautiful native language. Indeed, Dingle's Gaeltacht status is the town's only unique selling point.
I have cancelled my two-week trip to Dingle next Easter. I will be holidaying in Scotland instead: the mountains are higher, the food better and the prices cheaper. In Scotland, "bungalow blight" and fly-tipping are much rarer, but dolphins and whales are more common. Furthermore, the Scots are proud of their Gaeltacht and actively promote it to their foreign visitors. - Yours, etc,
CHRIS EVANS, Shenfield, Essex, England.