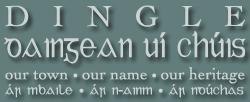 Dingle: Our Town - Our Name - Our Heritage
DINGLE DAINGEAN UI CHUIS.
If you would like more information about the Dingle peninsula, please visit the Dingle Peninsula Web Site.


Council to apply to change 'An Daingean'
The Irish Times (Dingle in the News)
11/21/2006
Kerry County Council yesterday voted to make an application for a Government order to change the placename of An Daingean in Co Kerry to the bilingual "Dingle Daingean Uí Chúis".
The results of a recent plebiscite which saw 1,005 people vote in favour of the name change - out of a total of 1,095 votes cast - will be sent to Minister for the Environment Dick Roche along with the name-change application.
The proposal for the name-change application was put forward by Fine Gael councillor Séamus Cosaí Fitzgerald and seconded by Cllr Michael Connor Scarteen (FG).
Three Fianna Fáil councillors - Mayor of Kerry Ted Fitzgerald, Cllr Norma Foley and Cllr Ned O'Sullivan - supported the proposal.
However, the meeting was told there was now division and a serious "rift" in the Gaeltacht community between those who wanted to retain the Irish-only name and those who wanted to return to Dingle officially, the meeting heard.
Cllr Breandán MacGearailt (FF), on behalf of Todhchaí na Gaeltachta, the newly-formed group representing 20 groups from the wider Corca Dhuibhne area, urged postponement of a decision to allow for local mediation between the sides. This was rejected.
Kate O'Connor from the committee for Dingle Daingean Uí Chúis pleaded with councillors not to ignore those who voted for change in a legal and democratic plebiscite.
Anne Lucey