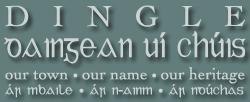 Dingle: Our Town - Our Name - Our Heritage
DINGLE DAINGEAN UI CHUIS.
If you would like more information about the Dingle peninsula, please visit the Dingle Peninsula Web Site.


Contrite Ó Cuív bows to wishes of townspeople over Dingle
The Irish Times (Dingle in the News)
11/18/2006
Eamon Ó Cuiv: thought local people wanted Irish name for town

At the end of a long day a contrite Minister for Community, Rural and Gaeltacht Affairs, Éamon Ó Cuív, told councillors he would "bow" to the wishes of the elected members and respect their decision to apply to Minister for the Environment Dick Roche for a name change from An Daingean to Dingle Daingean Uí Chúis.
It will now be up to Mr Roche and the Government to do what they can within the law to bring about a bilingual name for the Gaeltacht town.
Mr Ó Cuív received a round of applause from the members.
Two years ago, with the introduction of the first ever official Irish placenames, under the Placenames Order of the Official Languages Act, Mr Ó Cuív pronounced that the name Dingle officially no longer existed. On signposts it had to be An Daingean and nothing else, Mr Ó Cuív had said.
Before this order, on Easter Monday 2004, no Irish placename had ever had official status.
Cllr Paul O'Donoghue, brother of Minister for Arts, Sport and Tourism John O'Donoghue, had smoothed the path towards conciliation.
Speaking about dock-side piers provided by the Minister, the councillor said he wished other Government departments would take a leaf out of Mr Ó Cuív's willingness to consult with local communities and "reach consensus" on issues.
Mr Ó Cuív told councillors he had not anticipated that a Gaeltacht town would want an English name.
That controversy has seen townspeople in Dingle take to the streets and vote overwhelmingly to return to a bilingual and anglicised version. He had expected that most Gaeltacht people wanted an official Irish name.
He expected the controversy to be about the form of the name, about the spelling of the Irish version. He was "sorry if he didn't see the other".
"It was a bad read on my part. I hope you now understand the decisions were rational and reasonable," Mr Ó Cuív told councillors.
Prior to the placenames order removing Dingle, there had been consultation, but not with the townspeople, he conceded.
He could revoke the order and "I did suggest the plebiscite should ask if it wanted to be Irish or English and if Irish, Daingean or Daingean Uí Chúis," he said.
"Either of these options I could act upon," Mr Ó Cuív said.
He could still revoke the order, and reinstate Dingle, but complying with the plebiscite and the council's choice for Dingle Daingean Uí Chúis might leave them in a legal limbo.
"You complicate it when you have both," the Minister explained.
Anne Lucey