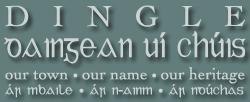 Dingle: Our Town - Our Name - Our Heritage
DINGLE DAINGEAN UI CHUIS.
If you would like more information about the Dingle peninsula, please visit the Dingle Peninsula Web Site.


Counting today in Daingean poll
The Irish Times (Dingle in the News)
10/20/2006
Counting is to begin this morning in the plebiscite to gauge opinion on a name change in An Daingean, Co Kerry.
Voting papers were sent to 1,222 qualified electors, and while the county council's returning officer, Charlie O'Sullivan, could not put a figure on the return, he said there seemed to be a "very good" response by 5pm yesterday. Some 612 people must vote Yes to a change of name to "Dingle Daingean Uí Chúis" for the plebiscite to be carried.
Legally a town cannot have a bilingual name. The plebiscite itself, which is being held under the 1946 Local Government Act, can have no legal effect on a Gaeltacht placename since the implementation of the Official Languages Act 2003 which for the first time gave authentic Irish-language placenames in Gaeltacht areas official status.
The ballot was not secret and each valid vote will have the name of the voter and of a witness. However, while the count will have to be in public, efforts will be made to keep the public from being able to see who voted which way, Mr O'Sullivan has said. The plebiscite is expected to be carried, since the people of the Gaeltacht hinterland have not been allowed to vote on the matter, and the vote has been confined to ratepayers and residents of An Daingean town.
A letter from Minister for Gaeltacht Affairs Éamon Ó Cuív sent to Kerry county manager Martin Riordan and all county councillors yesterday said that the choice of An Daingean was based on extensive public consultation by the placenames commission and that the only places "Dingle" is prohibited are in large-scale Ordnance Survey maps, road signs and Acts of the Oireachtas.
Anne Lucey