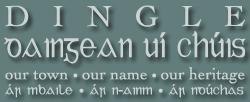 Dingle: Our Town - Our Name - Our Heritage
DINGLE DAINGEAN UI CHUIS.
If you would like more information about the Dingle peninsula, please visit the Dingle Peninsula Web Site.


Town's residents to give verdict on Dingle or An Daingean
The Irish Times (Dingle in the News)
11/9/2006
Kate O'Connor, Dan O'Keeffe and Fergus O'Flaherty erecting "Vote Yes" posters in An Daingean ahead of a plebescite this week on changing the town's name back to Dingle.
A vote to gauge opinion in An Daingean on a return to the name Dingle begins today when ballot papers will be posted to some 1,222 residents and ratepayers of the west Kerry Gaeltacht town.
This is the number found to be "qualified electors" after two periods of public consultation.
It is expected there will be an overwhelming majority in favour of the proposed application for a Government order changing the name of An Daingean to the bilingual "Dingle Daingean Uí Chúis".
However, more than 50 per cent of the electorate - 612 people - must vote in favour for the plebiscite to be carried.
The town's official name was changed two years ago under the Official Languages Act. The plebiscite follows a resolution by Kerry County Council last May.
Yesterday the town was ablaze in the local red and white colours with Yes posters dotting the streets and approach roads, and the name Dingle scrawled in handwriting on the official signpost of "An Daingean".
It is believed that while most people in the largely English-speaking town want a return to Dingle, many in the Irish-speaking hinterland wish to see An Daingean retained.
An attempt by Sinn Féin to widen the plebiscite to include the whole of the Gaeltacht peninsula failed at a recent meeting of Kerry County Council. Former mayor of Kerry Toireasa Ferris warned the "Gaeltacht status" of the town's hospitals and schools and other services serving the whole of the community could be affected, and the town might be taken out of the Gaeltacht altogether.
Campaigners for a return to Dingle include those involved in tourism and Fine Gael councillor and general election candidate Séamus Cosai Fitzgerald.
Last week Minister for the Gaeltacht Éamon Ó Cuív said it was not possible legally to have an English or a bilingual name in a Gaeltacht area.
Anne Lucey