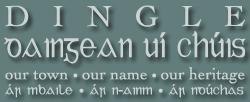 Dingle: Our Town - Our Name - Our Heritage
DINGLE DAINGEAN UI CHUIS.
If you would like more information about the Dingle peninsula, please visit the Dingle Peninsula Web Site.


Tourism fears over Dingle name
The Irish Examiner (Dingle in the News)
1/1/2007

THE name Dingle has been erased from all road signs in Kerry, despite a local plebiscite that showed over 90% of voters wanted it retained.


The town is now known by its official name, An Daingean, amid claims that confused tourists are not visiting the area as a result.

Of the 1,222 votes cast in the plebiscite last October, 1,005 were in favour of changing the name of An Daingean to the bilingual Dingle Daingean Uí Chuis.

However, Kerry County Council started erasing the English name before the plebiscite was carried out.

A council spokesman yesterday said they were obliged by Official Languages Act and the Placenames Order to put just An Daingean on signposts as the town was in the Gaeltacht.

Last November, Kerry County Council sent the outcome of a plebiscite to Environment Minister Dick Roche for a decision.

Fergus O'Flaherty, chairman of the Dingle Daingean Uí Chuis Name Change lobby group, yesterday said the group hoped that Mr Roche would made a decision in accordance with the plebiscite result.

"All this confusion about the name and signage is already damaging tourism.

"If you're looking for a place and can't see its name, how can you possibly get there? At the very least, the bilingual name should be on signposts in Killarney, Farranfore and Tralee, the main turning off points for Dingle," Mr O'Flaherty said.

Meanwhile, Mike Moriarty, owner of the Centra Supermarket in Farranfore, said a lot of tourists were coming into the shop seeking directions for Dingle.

"These tourists are coming into the shop making enquiries every day. They don't know which way to turn and are very confused. Some of them turn around on the road looking for the road to Dingle, which can be a dangerous manoeuvre," Mr Moriarty said.

The initial order to change the name Dingle to the official An Daingean was made by Gaeltacht Minister Eamon Ó Cuiv. Prior to the plebiscite, both the minister and Kerry county manager Martin Riordan said its outcome would have no legal standing. The controversy caused divisions, with many in the Gaeltacht area west of Dingle town opposed to having an English place name for a Gaeltacht town.

Sean Ó Cinneide, spokesman for an umbrella group representing up to 20 Gaeltacht organisations, said the people of Dingle were on their way toward losing Gaeltacht status.
By Donal Hickey