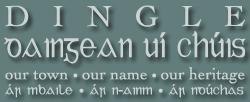 Dingle: Our Town - Our Name - Our Heritage
DINGLE DAINGEAN UI CHUIS.
If you would like more information about the Dingle peninsula, please visit the Dingle Peninsula Web Site.


Alterations subvert democracy
The Irish Examiner (Dingle in the News)
1/11/2007
What is happening in Kerry, with the obliteration of the name of Dingle on signposts throughout the county, is not just a waste of public money and time.

It is a subversion of democracy.

Late last year Minister for Community, Rural and Gaeltacht Affairs, Éamon Ó Cuív tried to insist that the name An Daingean should replace Dingle on all road signs.

This provoked a local outcry, but the minister seemed determined to ignore all objections, until local people took the initiate with a postal ballot. The result of this plebiscite was overwhelming. A total of 91.7% of the valid votes were in favour of the use of the name Dingle.

Even if one were to assume that all the spoiled votes were opposed to the name, it would have still have meant that over 82% of those who voted favoured the use of Dingle. This left no room whatever for any doubt or confusion.

Kerry County Council formally endorsed the decision. Mr Ó Cuív — having previously indicated that it would not matter how the people voted — appeared to back down when he told members of Kerry County Council that he would "bow to their wishes" and would not oppose their application to Environment Minister Dick Roche for a bilingual name to be used on roadsigns for the town. But council workers are still obliterating the name Dingle and replacing it with An Daingean on signposts. "We had correspondence on the matter from the Language Commissioner Sean Ó Corrain and had no choice but to act on that," a spokesman for the county council explained yesterday.

This is not only an intolerable subversion of our democracy but a show of contemptible arrogance by Government and local authorities, that has not been witnessed since the days when we were ruled from Dublin Castle.
Irish Examiner