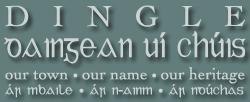 Dingle: Our Town - Our Name - Our Heritage
DINGLE DAINGEAN UI CHUIS.
If you would like more information about the Dingle peninsula, please visit the Dingle Peninsula Web Site.


West Kerry 'suffering dramatic fall in business'
The Kerryman (Dingle in the News)
2/2/2007
A NUMBER of leading business people in Dingle are seriously concerned about what they see as a dramatic decline in local commerce.
They believe the West Kerry economy is suffering from a decline in fishing, agriculture, tourism, building, the pub trade and a lack of promotion.
Brian de Staic, whose jewellery company employs around 40 people, believes that the decline in the economy is so serious that it may never recover.
"I'm not hiding behind bushes any more. Things have gone too far and we really have to start shouting and bawling. I'm not holding back on this and I don't believe I'm too far off the mark. Commerce is definitely falling back. I believe that the fall-off in business over the next couple of years will be so dramatic that it will be next to impossible to bring it back up to a sustainable level again," he told The Kerryman this week.
"It's difficult to be absolutely sure about the causes. One reason may be that the building boom is slowing down in the area. I also think that we're badly affected by the decline in the fishing and farming sectors. I spoke about this at the Business Chamber earlier this month. I brought it up because when I was collecting for the Christmas street lighting in December andthe reaction I got from businesses was that things were very tough. Some people said they wouldn't be around for the same period next year. It wouldn't justify staying open during the winter months. That really set alarm bells going in my head," he declared.
"In our company we found that at the end of the last quarter of 2006, in Dingle, business was very disappointing. We didn't have too many Americans from September on. We would normally have them calling up to December. Things just dried up. The signage situation is not helping but there's more to it than that I believe. I think that promotion of the area is vital. The problem has a lot to do with all the business going to Dublin and the east coast," he said.
"The whole town seems to be experiencing a decline in business and it's a very worrying development. Put it down to signage and the distance from Dublin to Dingle. That has a big bearing on it because the big factor is promotion. The promotion of the south west. We're not getting our 'spake' in. People don't have time to get down here because of the trend in short break holidays. That's the biggest problem," he claimed.
"We must find some way around that. Self promotion is vital but access from Farrenfore to cities all over Europe is draining our business. We have to be on that wavelength too because if we don't promote our area there won't be a market here to maintain a lot of the businesses in the future. We have to fight back and I see the fishing, agriculture, the pub trade and the building trade, which won't last forever, are all coming together in this and what will people do when it all dries up?" Mr de Staic said.
Seán Daly is the owner of Dingle Crystal on Green Street and has been in buisness in the town for the past seven years.
"Businesses are dying here in the town. Our sales for December and January are down by as much as 50 per cent on previous years. Americans are having a hard time finding the town. The name Dingle has disappeared from signposts and it's as if the town doesn't exist any more. The American tourists are just giving up looking for signs to the town. The flights from America into Shannon are still full but people aren't coming here," he told The Kerryman.
"It's a very worrying situation for a town that depends on tourism and every business in this town depends on tourism directly or indirectly. We have had lots of comments about the signage from people who have found their way here. One American said they had stopped in Killorglin to ask someone the way to 'An Daingean' and the person they asked said they never heard of the place!" he said.
"We had an email from a customer this morning,from New York,who was here a few weeks ago. The email said: 'I could find Dingle no matter how hard they try to keep us out!',. Minister Dick Roche has got to sort this out before it's too late," Mr Daly stated.
John Moriarty who operates Lord Bakers restaurant on Main Street also claimed business is suffering in Dingle.
"Business has fallen off a lot in recent months and the shrinkage of tourists is very noticable over the previous winter. We all know that the signage is a very serious part of this decline but there are other factors as well. We're not getting the exposure that we need and are rapidly becoming the forgotten territory. Publicans and other businesses are slipping."
There's deep concern that we're losing ground,"he said.
"The signage is a big issue. Dick Roche must deal with this quickly because we need the tourist industry to save our economy here locally. Dick has the power to instruct the council to put Dingle back on the signs. This is a number one priority. We also need to put a task force together to re-invent the winter season here. Hotels are trying to stay open as are restaurants and if we all close down there'll be no hope of winter business. We must try and stay open and break even if possible. The Business Chamber should be screaming about this," Mr Moriarty said.
The Kerryman