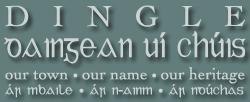 Dingle: Our Town - Our Name - Our Heritage
DINGLE DAINGEAN UI CHUIS.
If you would like more information about the Dingle peninsula, please visit the Dingle Peninsula Web Site.


Roche appeals to O Cuiv in Dingle name controversy
The Irish Independent (Dingle in the News)
2/10/2007
ENVIRONMENT Minister Dick Roche has launched an apparent sideswipe at Cabinet colleague Eamon O Cuiv over the Dingle/An Daingean controversy.

While acknowledging that the "wisdom of Solomon" was needed to sort out the place name debacle, he urged Mr O Cuiv to show some "give and take" on the issue.

He added that if people avoided getting into cul de sacs, it was so much easier to get on with life.

The controversial question landed on Mr Roche's desk last November when Kerry Co Co voted to apply for a Government order to change the official An Daingean in Co Kerry to the bilingual 'Dingle Daingean Ui Chúis'.

The councillors' decision was on foot of a plebiscite which saw an overwhelming majority of townspeople reject the new official name An Daingean, as favoured by Mr O Cuiv.

Some 1,005 people voted in favour of the name change - out of the total 1,095 votes cast - and opted for a return to the hundreds of years old anglicised version of the town's name.

The name of the town had been changed from Dingle to An Daingean under the Official Languages Act (2003), which protects and gives official status to Irish language place names in Gaeltacht areas.

The act was introduced by Mr O Cuiv, the Community, Rural and Gaeltacht Affairs Minister.

Speaking on local radio yesterday, prior to meetings with both sides in west Kerry, Mr Roche said it would be tragic if the local community was split on this issue. Advice

Mr Roche said he had sought legal advice, but changing An Daingean to the bilingual 'Dingle-Daingean Ui Chúis' could require "primary legislation".

There would be no time to introduce such legislation in the current Dáil. The legal advice was complex.

"Without a bit of give and take on his [Mr O'Cuiv's] side, it will be difficult," he said.

Mr Roche then said Arts and Sports Minister John O'Donoghue, was "like Solomon sitting between us" trying to resolve this issue.

When the controversy erupted, Mr O Cuiv initially said he was not for turning on the matter, saying his hands were tied by legislation.
Anne Lucey