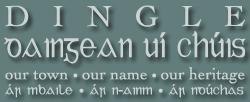 Dingle: Our Town - Our Name - Our Heritage
DINGLE DAINGEAN UI CHUIS.
If you would like more information about the Dingle peninsula, please visit the Dingle Peninsula Web Site.


Minister Roche discusses Dingle name in Tralee
The Kerry's Eye (Dingle in the News)
2/15/2007
The debate over the name of Dingle continued in Tralee last Friday as Coiste Dingle-Daingean Uí Chúis met with Environment Minister Dick Roche to discuss the issue in the Brandon Hotel.

Coiste Dingle-Daingean Uí Chúis are campaigning to reinstate the bilingual names of the town, which was changed to An Daingean under the Placenames Order by an t-Aire Eamonn Ó'Cúiv and felt that their meeting with Minister Roche was productive.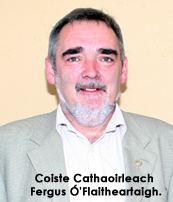 "The fact remains that 93% of the people voted to reinstate the names of Dingle and Daingean Uí Chúis and the Minister said that he understood and recognised the significance of the town's name" said Coiste Cathaoirleach Fergus Ó'Flaitheartaigh.

"He was patient and listened intently to what we had to say, he told us that he hope to resolve the matter as quickly and as best he could."

According to local business people, the town has suffered a fall off in trade recently and locals fear that the removal of the name Dingle and Daingean Uí Chúis off the signposts has had an adverse effect on the town's economy.

"We explained to the Minister that up to 90% of people in the area depend on tourism and he told us that he recognised the importance of out town's traditional bilingual names" Fergus added.

"He said that the removal of Dingle from signposts throughout Kerry was an 'outward symbol of the problem'."

The people of Dingle and the surrounding area are anxious for an outcome to the ongoing name saga but the Coiste are hopeful that their meeting with Minister Roche will move the process along.

The decision regarding the town's name was passed from Gaeltacht Minister Eamonn Ó'Cúiv to Minister Roche following the plebiscite result when Kerry County Council voted to present the results to Government.

"We liaised with Kerry County Council all the way and the plebiscite was carried out in a democratic and diplomatic way, within the correct legal framework" said Fergus.

"Communication between the townspeople and the council was excellent at all times."

"Now, Minister Roche has pledged to keep a line of communication open with us, he said he will be liaising with Minister John O'Donoghue to find a resolution while urging Minister Ó'Cuiv to be flexible on the matter."

"We believe our identity lies in both names, democracy is the foundation of our society and now we are hopeful that democracy will prevail, when 93% of a town vote to defend their heritage it shouldn't be ignored."

"The people of Dingle-Daingean Uí Chúis need a result."
Marian O'Flaherty