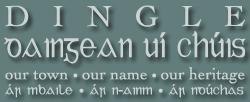 Dingle: Our Town - Our Name - Our Heritage
DINGLE DAINGEAN UI CHUIS.
If you would like more information about the Dingle peninsula, please visit the Dingle Peninsula Web Site.


IRISH ONLY SIGNS CONFUSING
Email (Your letters to Us)
3/28/2006
As a regular visitor to your beautiful and historic town, I respectfully
request the name "Dingle" be retained. While I am trying to study your
historic and important language, I fear I am too old to master it now. While I
can recognize the Gaelic name on signs, probably because I am always on the
penninsula when I read it, I believe business would decline if all your
visitors were required to negotiate Kerry in Gaelic language, alone. Thank
you for listening. See some of you in August.
Mrs. Marnee McLean
Pittsford,
NY