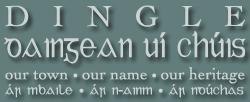 Dingle: Our Town - Our Name - Our Heritage
DINGLE DAINGEAN UI CHUIS.
If you would like more information about the Dingle peninsula, please visit the Dingle Peninsula Web Site.


Dingle campaigners accuse Minister of hypocrisy
The Kerry's Eye (Dingle in the News)
2/15/2007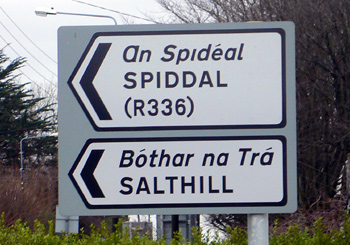 As the debate over the name of Dingle continues, campaigners in the town have found a novel way to get their point across, by exposing bilingual signposts in Minister Eamonn Ó'Cúiv's own constituency in Galway.

"This is hypocrisy, why, in Galway is it feasible to have names like Gaeltacht area names like Spiddal in English and in Irish, and not in Kerry?" said Coiste Chairman, Fergus Ó'Flaitheartaigh.

Some of the signage for the Minister for Community, Gaeltacht and rural affairs own offices are also in English and in Irish, saying Oifig & Office.

"So its one rule for us, and another rule for everyone else it seems" Fergus added.

"The tourist season is around the corner, bringing with it another period of confusion for people travelling from Tralee, Killarney and Farranfore who are having difficulty finding Dingle because it doesn't exist on any signpost."

"Bilingual signage is more appropriate outside the Gaeltacht, we have to be fair to everyone."

The people of Dingle are anxious for Minister Dick Roche to make a decision on the future name of the town, following their meeting with him in Tralee last week.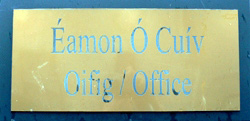 "Its not a question of language, its not English versus Irish, Dingle is known throughout the world and Daingean Uí Chúis is its proper Irish name, its as simple as that."

"Bilingual signage exists in other areas and it accommodates everyone, inclusiveness is this day and age where we live among other cultures is the only way."

"We are taking a leaf from Minister Ó'Cúiv's own area, bring back our old names and everyone throughout Kerry benefits."
Marian O'Flaherty