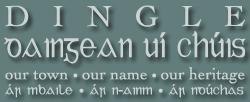 Dingle: Our Town - Our Name - Our Heritage
DINGLE DAINGEAN UI CHUIS.
If you would like more information about the Dingle peninsula, please visit the Dingle Peninsula Web Site.


Ó Cuív under fire in name change row
The Irish Examiner (Dingle in the News)
3/15/2007
During a visit to Kerry, Fine Gael leader Enda Kenny called on Eamon Ó Cuív to comply with the wishes of the people of Dingle, who voted last October to change the name of the Kerry Gaeltacht town from An Daingean to the bilingual Dingle/Daingean Uí Chúis.

Of the 1,222 votes cast, 1,005 were in favour of the name change.

Mr Ó Cuiv, however, has blamed Kerry County Council for the delay.

He said he needs a resolution from the council to allow him to legally enact the change.

"Nobody has asked us to revoke the place names order. The only thing we've been asked to do is to change the town's name using the 1946 legislation and that's legally impossible," he said.

"If the council pass a motion asking me to rescind the place names order as it relates to Dingle, then I will do so."

Senator Joe O'Toole, however, accused the minister of introducing a "red herring" in the row.

"This was an exercise in democracy. The minister knows what the decision of the people was," he told RTÉ's Pat Kenny show.

Mr O'Toole said the minister has the power to revoke the order and reissue a new one, with the required new names for Dingle.

"He can sort this out with a stroke of a pen," he said.

The minister said he has advice to the contrary from the Attorney General.

"If I am asked to revoke the order, I will have the order revoked in jig time," he added.

"We are the only town singled out for this kind of carry on," said Mr O'Toole.
Irish Examiner