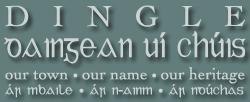 Dingle: Our Town - Our Name - Our Heritage
DINGLE DAINGEAN UI CHUIS.
If you would like more information about the Dingle peninsula, please visit the Dingle Peninsula Web Site.


Eight-in-ten tourists struggles to find Dingle over St Patrick's weekend
The Irish Examiner (Dingle in the News)
4/2/2007
THE bitter row over Dingle's name change has damaged the town's tourism industry, according to a new survey.
Eight of every 10 tourists who visited Dingle over the St Patrick's bank holiday weekend had trouble finding the town, according to the survey which was backed Coiste Dingle, Daingean Uí Chúis Dingle name campaign.

With the peak tourist season just weeks away, they said the town's tourism trade is in chaos with local businesses suffering a fall off in trade.

A total of 100 tourists were surveyed in B&Bs, restaurants, shops and pubs over the course of the bank holiday weekend.

They were asked if their visit was hampered by signposts which, since the introduction of the Placenames Order by Minister Eamonn Ó Cúiv, display the name, An Daingean, only. The results were as follows:

84% said they experienced difficulty finding the town because of the omission of the name Dingle from the signposts.

94% indicated that it would be more beneficial to visitors if the names on the signposts were indicated in English and in Irish.

93% said that they preferred the names Dingle Daingean Uí Chúis.

Coiste Dingle, Daingean Uí Chúis Dingle name campaign spokesperson, Kate O'Connor, said bilingual signposts are in place both inside and outside Gaeltacht areas in Cork, Galway, Mayo and Donegal.

She again asked why Dingle is the only town to have had its name taped over on road signs.
By Eoin English