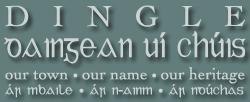 Dingle: Our Town - Our Name - Our Heritage
DINGLE DAINGEAN UI CHUIS.
If you would like more information about the Dingle peninsula, please visit the Dingle Peninsula Web Site.


Bad business for Dingle
The Irish Independent (The Dingle Letters)
4/17/2007
Six months ago, the people of Dingle in association with Kerry County Council, held a legal democratic plebiscite in which 93pcf the townspeople voted to reinstate their traditional bilingual names; Dingle Daingean Ui Chus.
The Government' response to the plebiscite was to tape over and obliterate "Dingle" from every single signpost in the County of Kerry. Presently, our plebiscite lies bound in red tape, awaiting Government attention.
Recently, we highlighted a survey carried out by local Dingle guesthouses, pubs, shops and restaurants over the Saint Patrick's Day Bank Holiday weekend. The survey showed that eight out of ten tourists said they had trouble finding the town.
All American guide books refer to the town and area as the Dingle Peninsula, and they found that the removal of Dingle from the signposts was very confusing.
Dingle businesses reported that their business was down by as much as 50pc on previous years. All of this has been greeted by Government indifference and apathy.
On Easter Sunday, a landslide occurred on the Dingle Peninsula, and the following day local tourist operators in Dun Chaoin complained of a fall off in expected tourists. An emergency meeting was called by Kerry County Council and the Minister for Tourism, John O'Donoghue.
Bilingual diversion signposts were demanded and granted, a new section of road was immediately made available to the Council and within five short days of the landslide, Minister O'Donoghue was photographed opening a brand new stretch of road.
The Minister for Tourism wanted the message sent out that the beautiful Dingle Peninsula in his own South Kerry Constituency is open for business. Now if the Minister could just give some directions for the right road to the Dingle Peninsula, we'd all be sorted.
KATE O'CONNOR,
FERGUS O'FLAITHBHEARTAIGH,
SEAN O'MUIRCHEARTAIGH