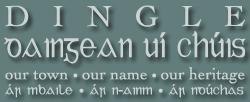 Dingle: Our Town - Our Name - Our Heritage
DINGLE DAINGEAN UI CHUIS.
If you would like more information about the Dingle peninsula, please visit the Dingle Peninsula Web Site.


DINGLE TO AN DAINGEAN IS LIKE REVERTING BACK TO LATIN MASS-IMPRACTICAL
Email (Your letters to Us)
1/1/2006
I am writing as one who loves the town and people of Dingle, the beautiful surrounding Dingle peninsula, its literature, and the rich heritage of one of the world's loveliest places. I grew up in Holyoke , Massachusetts learning in both English and Gaelige about Dingle from my maternal grandmother, Catherine Fitzgerald Scanlon of Kilcolman and Milltown, and those happy childhood visions have led me to visit Dingle often over the years and to have the area always in my mind and heart. I don't believe anything is to be gained by changing the name, which many of us children of emigrants treasure, back to its previous Gaelige version. I love the Irish language and do my best to honor and preserve it through the Irish league, through trying to study and speak and read it as best I can, which is not very well. However, that's very different from changing place names back to their ancient origins. I also enjoy and am nostalgic about the Latin Mass, but its usual observance should now be in English for many practical reasons. If I may respectfully suggest, the way to preserve your wonderful history and traditions, which gladden so many of your descendants elsewhere in the world, is not through changing the name of Dingle to An Daingean, but rather through seeking other more profound ways of deepening their recognition and celebration for those who are fortunate enough to live there, and for the rest of us who think of it as our place of origin and our second home.
Tom Cody USA