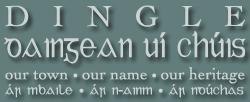 Dingle: Our Town - Our Name - Our Heritage
DINGLE DAINGEAN UI CHUIS.
If you would like more information about the Dingle peninsula, please visit the Dingle Peninsula Web Site.


Jackie backs 'Dingle'
The Kerry's Eye (Dingle in the News)
5/30/2007
Healy-Rae lists Dingle name issue as key priority in Government discussions

Newly re-elected independent South Kerry TD, Jackie Healy-Rae has vowed to include the reinstatement of the name Dingle, Daingean Uí Chúis as one of his key demands if he is approached by any political party about the formation of the next government.

Mr. Healy-Rae said that the reinstatement of the bilingual names Dingle, Daingean Uí Chúis, which was removed under the Placenames Order by Minister Eamon Ó'Cúiv last year was one of his key priorities before the election and remains high on his list now afterwards.

"The name Dingle, Daingean Uí Chúis continues to be a main priority for me, it will be high on my list of demands" said Mr. Healy-Rae.

"When the gang from Dublin come to talk to me, Dingle will be put back on the table."

Over 90% of the local towns people voted in a Kerry County Council supported plebiscite last year to reinstate the bilingual names of Dingle, Daingean Uí Chúis in favour of An Daingean which now stands as the towns official name.

"It is my convicted view that the people of the town publicly demanded the reinstatement of the towns names in the plebiscite last year" emphasised Mr. Healy-Rae.

"I will continue to stand behind them and ask the powers to pay heed to their public wish."

"It is only proper order that the names Dingle and Daingean Uí Chúis be brought back, it is of great importance to the entire county."

Mr. Healy-Rae has emerged as one of the key players in the formation of the next government as the support of independents may swing the balance of power in favour of either of the main parties involved.

Mr. Healy-Rae was elected in dramatic fashion in Killarney last Friday as a small number of votes separated him and Labour's sitting South Kerry TD, Breeda Moynihan-Cronin.

Following a re-count, Breeda Moynihan Cronin was eliminated and Mr. Healy-Rae was elected as the third South Kerry TD alongside Minister John O'Donoghue (FF) and newcomer Cllr. Tom Sheahan (FG).

With Mr. Healy-Rae's new found power, the people of the West Kerry will be keeping a close eye on events as the fallout from one of the county's most interesting elections in recent years unfolds.
by Marian O'Flaherty