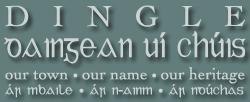 Dingle: Our Town - Our Name - Our Heritage
DINGLE DAINGEAN UI CHUIS.
If you would like more information about the Dingle peninsula, please visit the Dingle Peninsula Web Site.


Kerry town faces name change again
The Irish Examiner (Dingle in the News)
6/20/2007
In politics the answer depends on who has the whip hand. And in Dingle, it seems Jackie Healy-Rae is in the driving seat.

Apparently, one of the key electoral agreements in the contract between the Kerry independent and Taoiseach Bertie Ahern is that the town's name, peremptorily changed to An Daingean by Minister Éamon Ó Cuív, is to be switched back to Dingle.

War broke out after the controversial name change and since then the overwhelming majority of the townspeople have voted for a return to Dingle.

Ironically, the journal of the Kerry Archaeological and Historical society, attributes the name Dingle to English clerks in the 14th century who found it hard to pronounce Daingean. As there is no V in the Gaelic alphabet, a purist might suggest Mr Ó Cuív should look at his own name.
Irish Examiner