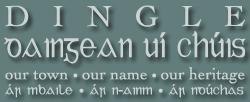 Dingle: Our Town - Our Name - Our Heritage
DINGLE DAINGEAN UI CHUIS.
If you would like more information about the Dingle peninsula, please visit the Dingle Peninsula Web Site.


Dingle naming row continues after TD remarks
The Irish Examiner (Dingle in the News)
6/21/2007


A ROW over the An Daingean name change continued yesterday, following a claim by Independent TD Jackie Healy-Rae that he had helped resolve the matter.

The announcement by Mr Healy-Rae that he secured a commitment from Taoiseach Bertie Ahern that the official name would be the bi-lingual Dingle Daingean Uí Chúis was met with conflicting reactions.

Kate O'Connor, of Coiste Dingle Daingean Uí Chúis, the group which campaigned for the restoration of Dingle to the official name, said it was "fantastic" news.

However, Feargal Mac Amhlaoibh, of Todhchaí na Gaeltachta, the group which wants the official name to be in Irish only, said Mr Healy-Rae's announcement should be taken with a "large package of salt".

Mr Healy-Rae's son, Michael, speaking on behalf of the deputy, said Mr Ahern had signed off on the issue as part of the agreement under which the deputy undertook to support the government.

Ms O'Connor said her group was delighted the matter had been resolved.

She said that more than 90% of the people of An Daingean had voted for the bi-lingual name.

"The matter has been with the Department of the Environment for the past six months and has been wrapped up in red tape," she said.

She added that tourism was damaged as eight out of 10 visitors said they were confused.

However, Mr Mac Amhlaoibh said his group regarded Mr Healy-Rae's statement as being totally without substance and called on him to publish any written agreement he had reached with the Government.

"Todhchaí na Gaeltachta believes that the Taoiseach could not give such an undertaking as it would involve amending the Official Languages Act 2003 through both Houses of the Oireachtas," he said.

But, Michael Healy-Rae was adamant the Government had given a commitment.

An order giving effect to the name change was not yet signed, according to the Department of the Environment.
The Irish Examiner