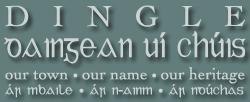 Dingle: Our Town - Our Name - Our Heritage
DINGLE DAINGEAN UI CHUIS.
If you would like more information about the Dingle peninsula, please visit the Dingle Peninsula Web Site.


Gormley moves to resolve Dingle placename dispute
The Irish Times (Dingle in the News)
4/10/2008
Minister for the Environment and Green Party leader, John Gormley, has moved to end the long-running controversy over what one of Ireland's most famous tourist destinations should be called.

There was a time when some called it 'Dingle', others called it 'An Daingean', while still others preferred 'Daingean Uí Chúis'.
But three years ago Minister for Community Rural and Gaeltacht Affairs Éamon Ó Cuív decreed under the Official Languages Act that the name of the charming Kerry town would henceforth be 'An Daingean'. It didn't go down well with many townspeople, who feared foreign tourists would be unable to find the place and might even end up at Daingean (or 'Dangan'), Co Offaly.

A plebiscite approved by Kerry County Council in October 2006 showed that most of the town's residents favoured Dingle/Daingean Uí Chúis. However, Irish speakers in outlying areas complained they were not consulted. Mr Ó Cuív said he had no legal powers to act on the plebiscite result and there the matter stood until the Greenswent into Government last year.

At the last meeting of Taoiseach Bertie Ahern's Cabinet yesterday, Ministers turned the matter over to Mr Gormley.
Under proposed legislation, he will amend the local government code to ensure all proposals for placename changes will specify the new name in Irish and English, unless it is indicated that an Irish name only is to be adopted.
Mr Gormley said: 'It remains Government policy that the names of places within the Gaeltacht should generally be recognised by the State in Irish. However, where a local community wishes to vote to change the name to an alternative Irish-only name, or to an Irish and English version, that version will supersede any Placenames Order under the Official Languages Act 2003.'

That means the Kerry beauty-spot will be known as 'Dingle' in English and 'Daingean Uí Chúis' in Irish. But since the town is in an official Irish-speaking area, the road signs in the Gaeltacht will continue to give its name in Irish only, whereas on road signs outside the Gaeltacht it will be known as 'Dingle/Daingean Uí Chuis'.

Kerry South TD Jackie Healy-Rae, who had opposed the dropping of 'Dingle', said he wanted to thank Mr Ahern 'for sorting this out for me' at his last Cabinet meeting.
The Irish Times