After being changed in 2004, road signs that lead to the Kerry town are to list both 'Dingle' and 'Daingean Uí Chúis'.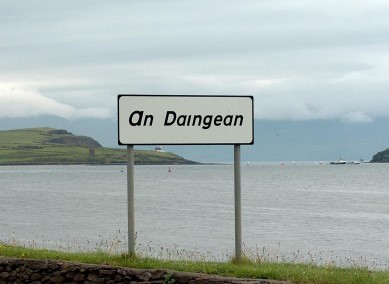 The English version of the name is to be reintroduced alongside the Irish version later this year.

Image: JOHN COGILL/AP/Press Association Images

NAVIGATING TO DINGLE is to get that little bit easier from the end of next month, as road signs leading to the tourist hotspot will carry its name in both Irish and English.
Road signs to the Kerry destination are to carry both 'Dingle' and 'Daingean Uí Chúis', after years of lobbying by locals after the English version was dropped in 2005.
Renamed to 'An Daingean', a2006 plebiscite showed that 90 per cent of voters wanted the names 'Dingle' and 'Daingean Uí Chúis' reinstated.
Speaking to TheJournal.ie, Fine Gael councillor Séamus Cosaí Fitzgerald said that the change of name had been a "big issue" to local people.

"People have great pride in their town and when the name was removed from them without any real public consultation, they were angry," he said.

Dingle is known worldwide. It's a brand name.

With large numbers of tourists expected to descend on the town in the coming months, Fitzgerald said it was essential that tourists could find their way.

"It was confusing," he said. "Americans and Europeans would typically hire a car and drive themselves here and the maps would say Dingle."


While the signs leading to the town are set to the change, signs within the Gaeltacht area itself will remain in Irish only.