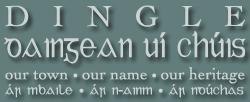 Dingle: Our Town - Our Name - Our Heritage
DINGLE DAINGEAN UI CHUIS.
If you would like more information about the Dingle peninsula, please visit the Dingle Peninsula Web Site.


Sign removed following council warning
The Irish Times (Dingle in the News)
9/14/2005
Irish Times, 14th September 2005.

A giant Hollywood-style Dingle sign has been taken down overnight, amid warnings by Kerry County Council that it would issue a planning enforcement notice.

Meanwhile, it emerged yesterday that the council is seeking legal advice on issues surrounding the holding of a plebiscite and on motions passed at a meeting in July to change the town's new name of An Daingean….

The sign had been erected on land that belonged to the town and was administered by the county council….

The change to An Daingean, which became official on March 28th, affects road signs, OS maps and statutory instruments.
A number of motions at the July council meeting called for a return to the name of Dingle. The meeting decided on a plebiscite. However, a spokeswoman said yesterday they were seeking legal advice on exactly what the councillors had decided, as some of the motions passed were conflicting.
Anne Lucey