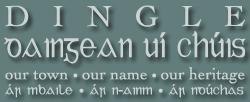 Dingle: Our Town - Our Name - Our Heritage
DINGLE DAINGEAN UI CHUIS.
If you would like more information about the Dingle peninsula, please visit the Dingle Peninsula Web Site.


Plebiscite to be held on Daingean or Dingle
The Irish Times (Dingle in the News)
10/18/2005
Kerry County Council yesterday voted to hold a plebiscite to change the name of An Daingean to a bilingual version of Dingle/Daingean Uí Chúis.

However, the poll is to be confined to a small section of the west Kerry Gaeltacht town and less than a third of the town's electorate of 1,839 will be eligible to vote….

Last Easter Monday, Dingle, along with over 2,000 other Gaeltacht placenames, was changed to An Daingean under the Placenames (Ceanntair Ghaeltachta) Order of Official languages Act 2004, enacted by Éamon Ó Cuív, Minister for Rural, Community and Gaeltacht Affairs.

Considerable opposition sprang up among tourism and business operators to the legislation, which will see the name Dingle being removed from public signposts and most ordnance survey maps.

At the July meeting of the council, four separate motions called for a return to the anglicised Dingle, or for a bilingual version.

The 1946 Local Government Act was the only legislation available to the council to attempt to change the official name of An Daingean, county manager Martin Riordan advised the council yesterday.

However, that act confined the plebiscite to the actual townland of An Daingean, and excluded people living outside the townland, unless they had rateable properties within it, Mr Riordan said.

The area of An Daingean represents the old inner core of the town and in geographical and electoral terms represents under one-third of the area.

Much of the town's main street, the popular commercial and business street of Green Street, as well as most of the harbour and housing surrounding the town, will be excluded when the vote is held within the next few months.

It would still be up to the Government to give the final decision, Mr Riordan explained. "The proposal to change the name is legally complex and presents a number of serious issues to be considered by the council," Mr Riordan said.

The order which Mr Ó Cuív made last March meant the English language version no longer had any force. The townland, civil parish and electoral division of Dingle would now be covered by An Daingean, he outlined. The council had no provision to change either the parish or electoral area name.

The council voted 18 for and one against to begin the process to conduct the plebiscite. Three councillors abstained and five were absent.

A majority of the qualified electors must vote for the name-change for it to be valid.
Anne Lucey