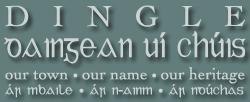 Dingle: Our Town - Our Name - Our Heritage
DINGLE DAINGEAN UI CHUIS.
If you would like more information about the Dingle peninsula, please visit the Dingle Peninsula Web Site.


Dingle Truth Stranger Than An Daingean Fiction
The Irish Examiner (Dingle in the News)
7/19/2005
LAST Easter when the Community Rural and Gaeltacht Affairs Minister Eamon O Cuiv introduced the Place Names Order 2004, Dingle ceased to exist. Thereafter it became An Daingean, and Mr O Cuiv insisted he was not for turning because this was the Kerry Gaeltacht town's proper Irish name. Since then his order has enraged the county. However, it emerges that Mr. O Cuiv's An Daingean is a complete fiction invented by overzealous civil servants in the 1920s. Historical research reveals that Dingle was always called Dingle and was never known by another name. Founded in the 13th century by French speaking Normans, they built the town on a hill overlooking the picturesque harbour and gave it the name Dyngle-Cushe, which means stronghold of de la Cousa a Norman warlord. In 1257 King Henry 111 passed a law placing customs duties on goods exported through the town. The calendar of documents (1252-84) records the payment of £12.00 to the Dyngle custom authorities. Even the King of Spain, Charles V recognised the name Dingle…

There is a major drive in Kerry to dump the absurd name change and revert to the town's proper name. Leading the campaign is Dingle councillor Cosai Fitzgerald. Mr. Fitzgerald said: "I am calling on the minister concerned to see sense in this matter and not to force this ludicrous idea down people's throats. "I am absolutely dismayed at the high-handed disregard Mr. O Cuiv has shown to the people of Dingle regarding his attempts to erase Dingle from all official records and directional sign posts." Centuries ago Dingle was burnt to the ground four times by chieftans who wanted to erase Dingle off the map. It would be ironic if Mr. O Cuiv succeeded with the stroke of a pen where the sword had failed so often.
Tom Prendeville