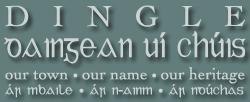 Dingle: Our Town - Our Name - Our Heritage
DINGLE DAINGEAN UI CHUIS.
If you would like more information about the Dingle peninsula, please visit the Dingle Peninsula Web Site.


'Dingle' causes legal dilemma
The Kerryman (Dingle in the News)
3/2/2006
A LISPOLE man who is charged with an alleged drink driving offence dating back to December of 2004, had his case referred to the High Court on Friday last, following another legal dilemma caused by the changing of the name of 'Dingle' to 'An Daingean'.

The case of the DPP versus Timothy Brosnan of Fogheraghmore, Lispole appeared on the list at the monthly sitting of Dingle District Court on Friday. However, at the outset of the case, defending solicitor Pat Diggin applied for the case to be dismissed on technical grounds.

He said the court summons issued by the State to his client was sent out after the legislation was introduced, officially changing the name of Dingle to 'An Daingean' - yet the summons referred to the district court area of Dingle, which at that point no longer existed.

Referring to the Official Languages Act (Place Names Order) of 2004, Mr Diggin said: "We are saying that the effect of that Act is that after the place names order came in, any document issued thereafter should not be in force or have any effect. The State used the English version (of the name of Dingle) on the document, which is no longer in force."

Responding to the solicitor's point, Judge James O'Connor pointed out that the summons did carry the English version of the place name. "But does that mean that there was a deficiency in the document itself?" he asked.

Mr Diggin replied that it did, because his client had been effectively issued with a summons for an alleged offence in a place which effectively had no court area.

"What you're saying is that Dingle had been obselete at the time that the court summons was made," Judge O'Connor said.

Accepting that the summons was issued after the place names legislation came into effect, Supt Pat Sullivan argued that the Act made provision for such cases as the one before the court. He said that the Act clearly stated that the name change was being introduced without prejudice to any documents issued before it became law.

Having listened to both Mr Diggin and Supt Sullivan, Judge O'Connor said that very sound arguments could be made for both sides. Adjourning the case until the March 24 sitting of the court, he said that the safest course of action would be to send the matter forward to the High Court.
By Court Reporter