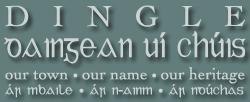 Dingle: Our Town - Our Name - Our Heritage
DINGLE DAINGEAN UI CHUIS.
If you would like more information about the Dingle peninsula, please visit the Dingle Peninsula Web Site.


Dingle people deserve more from Ó Cuív
The Kerryman (Dingle in the News)
12/1/2005
ONLY Minister Eamon Ó Cuív can explain why he and his department failed so miserably in applying any foresight or element of democracy or consultation to the Placenames (Ceantair Gaeltachta) Order 2004 which is at the root of all the current furore in West Kerry.

Minister Ó Cuív's decision to change the name of Dingle to An Daingean comprised a surprisingly heavy-handed approach to introducing a fundamentally worthwhile piece of law. The people directly affected are those who deserve better from a minister claiming to represent their needs and entitlements. It is understandable to think that the vast majority of the population of this country don't really care whether or not Dingle retains its name or is changed to An Daingean.

But a far more serious issue has emerged in the Dingle/An Daingean debate, one that goes to the very core of democracy and the right for a community to be listened to and heard. What the entire debate illustrates, once more, is that the heavy hand of the civil service, or of political masters far removed from every-day rural life Minister Ó Cuív's inspired Order has now made him the subject of very serious criticism. At a public meeting in Dingle on Monday night, he was accused of depriving the townspeople of their democratic rights and of conducting a campaign of persuasion, bribery and threat against the local population.

His order has caused chaos in the courts and could yet prove to have very serious legal and statuary implications. Senator Joe O'Toole is correct in identifying that this debate is not about the name of a town. It is about recognising the rights of its inhabitants. An organised campaign to hold a plebiscite succeeded only in so far as getting Kerry County Council to hold a vote on the issue. But that limited
plebiscite will not hear the wishes of many people in the town, including those who are most affected by a name-change.

In any event, the minister said that he will not accept the result of that plebiscite. The debate has moved from names to one of democracy and dictatorship in the eyes of local people. That very same minister now at the centre of anti-democratic accusations is a direct descendant of a politician that many historians claim was crucial in consolidating Irish democracy in the late 1930s.

For the people of Dingle to quietly lie down and take what has been forced upon them would be a very unfortunate move indeed. The vast majority of those same people are law-abiding citizens. They are
not in the business of making a habit of rebelling against each and every law or piece of legislation that affects them.

It is not too late for the minister to listen. How he does that is a matter that can be resolved. What he or his cabinet colleagues cannot do is assume that what locals see as heavy-handed, dictatorial politics is the proper way to do what is supposed to be democratic business.
Declan Malone, Editor Kerryman