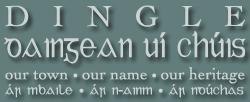 Dingle: Our Town - Our Name - Our Heritage
DINGLE DAINGEAN UI CHUIS.
If you would like more information about the Dingle peninsula, please visit the Dingle Peninsula Web Site.


Battle continues over Dingle name
The Kerry's Eye (Dingle in the News)
3/1/2006
Momentum is gathering behind the campaign to reinstate the name of the
town of Dingle and Coiste Dingle-Daingean Uí Chúis, as their website
www.dinglename.com has attracted almost 12,000 hits from people all
over the world.

"They are simply fascinated that our town name has been taken away,
just like that," said Kate O'Connor, Coiste member.
The Coiste are preparing to get the proposed plebiscite on the town's
name underway.
"We are meeting with Charlie O'Sullivan of Kerry County Council next
week and he has assured us that it is going ahead," said Kate.
"The ratepayers in the area need to be deciphered in order to compile
a list of qualified electors and then we can get about the real
business of getting our name back."
The procedures for the holding of a plebiscite to change the name of a
townland must be in accordance with section 77 of the Local Government
Act 1946 (and subject to subsequent amendments, section 53 and 67 in
1944 and 1956).
The Council have carried out some work in on the list of qualified
electors that may be eligible to vote.
When the legal issues have been resolved, it is expected that the
Council will be a position to publish a notice advertising that the
list of qualified electors has been prepared and is available for
inspection.
Despite Ministerial opposition to the proposed plebiscite, the Coiste
are determined to see the process through to the end.
"Dingle is an international brand, this name change will have major
consequences on our trade," said local businessman, John Moriarty.
"A contingent from Santa Barbara , Dingle's Twin City , recently
converged on the town spending €75,000 in three days.
"They felt that the name change is creating obstacles for tourists who
wish to know more"
John believes that tourism chiefs in Kerry are ignoring this issue.
"There has been a deafening silence from our Minister in Kerry and
Cork-Kerry Tourism in relation to this issue, which we find
staggering," he said.
"We are determined to restore our town's name," added Kate.
By Marian O'Flaherty