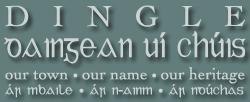 Dingle: Our Town - Our Name - Our Heritage
DINGLE DAINGEAN UI CHUIS.
If you would like more information about the Dingle peninsula, please visit the Dingle Peninsula Web Site.


Dingle: what's in a name?
The Kerry's Eye (Dingle in the News)
9/1/2005
Last weekend a sign appeared on the sloping hillside overlooking
Dingle harbour. In letters, reputed to be 25 foot high, it spelled out
the word 'DINGLE'. The calligraphy replicated the letters of the word
' HOLLYWOOD ' in the movie centre of the world.
That film-world sign appeared on Mount Lee in 1923, and the word was
'HOLLYWOODLAND', promoting a local property development. In the mid
1940s, when Hollywood had become the world's Tinseltown, the last four
letters were knocked off.
Since then, we have grown 'accustomed to its face'. Like many other
unusual images, in time it became less offensive and more symbolic of
the movie-world. It is now one of the best-known and most photographed
signs on this globe.
The Dingle sign had only a few days of life before it was knocked flat
late on Monday night. My regret is that I did not see it standing
against sky or hillside.
It was a unique and artistic protest against the hijacking of the
name 'Dingle' by Minister Éamon Ó Cuív.
Irrespective of local wishes, he decided to change the official name
of the town to An Daingean.
Official maps produced by State agencies and I presume, international
map publishers, who produce maps of Ireland under licence from the
State, will have to use the Ó Cuív version of the name.
That must create confusion at least and will certainly counter the
effective promotion of Dingle by tourist interests over the past 30
years.
Minister Ó Cuív has previously shown that he is a caring man in
standing up for preservation of rural communities. In order to
strengthen local Gaeltacht communities, he attempted to make it less
difficult for them to get planning.
However, his edict, in relation to the name Dingle, is more in keeping
with the action of a Czar, than that of a Minister in a democratic
government.
The threat of depriving the town of Gaeltacht funding for opposing the
name change was an ill-used truncheon of persuasion.
Irish name changes have been readily accepted by The People, when
changing a town that was dedicated to honouring what was a foreign
monarch, once we had established our own State.
As a result Cobh was readily accepted in place of Queenstown, just as
happened when Kingstown was removed from the map, making way for Dun
Laoghaire . Nobody regretted losing Kingsbridge Railway Station, or the
town called Marlborough , named for the Duke who fought in the Spanish
wars of succession. And no tears are shed for losing Queen's County
and King's County.
But Dingle is different. No foreign powers were involved.
As a protest, the Dingle sign was 100% successful. The photo and
report were carried on national papers and the well-illustrated tale
made the main evening news on television. It was another round in a
David and Goliath fight, where sympathies were aroused in favour of
the wishes of the local community.
It is not too late for Minister Éamon Ó Cuív to repent and see the
error of his ways. He should realise that promotion of people speaking
Irish in the normal course of their activities will not be aided one
tráeneen by changing a name on a map.
His Government needs like a hole-in-the-head, a continuing Kerry South
protest from the electorate over his theft of the name of the second
biggest, but most vibrant community in the constituency.

Every decade or so a government minister makes a bloomer, by backing
the wrong horse on a local issue. Baltinglass Post Office was the
best-known of these. It was subject matter for a book and a movie. It
happened in December 1950, when Minister for Posts and Telegraphs, Jim
Everett, tried to surplant Postmistress Helen Cooke, whose family had
the position since 1970.
Because of the Minister's decision, two Independent deputies stopped
supporting the Fine Gael/Labour Coalition.
The spark of local protest grew into a roaring blaze. That, plus a
milk dispute, caused Taoiseach John A. Costello to dissolve the
Government six months later and the political parties in the
Government were not returned to power.

Dingle signpost and map dispute will not be as big, but it could last
longer. In the early 1970s a Fianna Fáil Minister whose love of the
native tongue could not be disputed, used his power to change the
destination signs on CIE buses from English to Irish.
With no short Gaelic word to substitute for Cross, buses departed from
Tralee for various cross road locations, with the designation 'Cross'
indicated by the letter X.
Time is a great healer of Ministerial goofs. The policy of teaching
the Irish language through bus destinations was dropped, when the
Minister's portfolio was changed.
Likewise the Ministerial edict of Ó Cuív will not be of too long
standing. An Daingean will again be known as Dingle, a place that had
a long and honourable place in history for its trading with
Mediterranean ports. It serves contemporary needs as an international
fishing and yachting base.
The area would be better served by the Minister Ó Cuív, if he used his
persuasive powers to seek funding for the West Kerry main road system.
It is important that fish catches landed at Dingle arrive on time at
European fish markets. Trucking companies are levied for late
arrivals.
It is also important that coach and car tourists, as well as
residents, have a safe road system on the Dingle Peninsula . When the
Minister next looks at a map of the area, he should consider launching
a Cabinet campaign to improve the roads.
A delay of ten years will not matter in changing a name, but people
will live, die, starve, or go out of business, if he cannot improve
the infrastructure. A vibrant local community offers the Irish
language its best chance of survival.
Opinion By Padraig Kenneally
Editor Kerry's Eye Newspaper