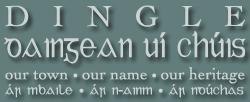 Dingle: Our Town - Our Name - Our Heritage
DINGLE DAINGEAN UI CHUIS.
If you would like more information about the Dingle peninsula, please visit the Dingle Peninsula Web Site.


An Daingean it is as Dingle drops off map
The Irish Post (Dingle in the News)
5/25/2005
ANYONE heading to west Kerry this year will find that Dingle no longer exists — the name Dingle that is.

The Irish Government has ruled out allowing the name of Dingle to appear on maps, road signs and official correspondence.

Instead the new Gaelic version of the name An Daingean is to be adopted and used from here on in. Minister for Community, Rural and Gaeltacht Affairs Éamon Ó Cuiv has said that Dingle is to have one name only and that is its Irish one.

And he said if people were not happy with the decision Dingle could have its Gaeltacht status taken away.

But local representatives are outraged at the decision. They are calling for a derogation to allow the anglicised version on signposts and maps outside the Gaeltacht.

Locals have argued that the name Dingle is an international brand recognised by tourists the world over. The Minister said the biggest industry in the county was its languagerelated tourism. More than 24,000 students went to the Kerry Gaeltacht each year he said. A motion was passed in Kerry County Council last week seeking information on whether Dingle could remain on signposts outside the Gaeltacht area.

Most people in the area — although they support the Irish language — want Dingle to remain on signposts outside the region. But the Minister would not budge. "It is An Daingean, full stop," he said. "The days of walking both sides of the street are over. "It's a nonsense not having linguistic criterion attached to the Gaeltacht."

He said that people could not insist on retaining the name Dingle on signposts outside the Gaeltacht. And the solution he offered was that if the community wanted it legislation could be introduced to take Dingle out of the Gaeltacht altogether. Since the Placenames Order 2004 came into force the name Dingle no longer exists.

"The Irish language brand is the brand," he insisted. He went on to say that using An Daingean should not pose any more difficulty than the change from Kingstown to Dun Laoghaire or from Queenstown to Cobh.
The Irish Post