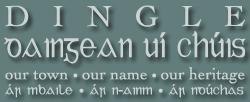 Dingle: Our Town - Our Name - Our Heritage
DINGLE DAINGEAN UI CHUIS.
If you would like more information about the Dingle peninsula, please visit the Dingle Peninsula Web Site.


Bilingual Makes Sense:
The Kerryman (The Dingle Letters)
10/19/2005
Sir

The Irish language has at last received official status at the European Parliament.

This was fought hard for over recent years, and any Irish person can do their business bilingually a EU level now.

This should be reflected across our nation by having bilingual road signage matched up with bilingual road maps and tourist promotional maps for international marketing.

We are now a multicultural society, with a wonderful cosmopolitan mix of tourists seeking us out, especially in remote places like the Dingle Peninsula.

Ireland is now at the cutting edge of the EU with its great economic success, low inflation and low unemployment and it's held in very high esteem in the EU and US.

A great part of Ireland's success is the very fact that we are largely English speaking, making us user friendly for foreign inward investment over the past 30-40 years, particularly from the US.

American investment is now worth more than the grand total of revenue from agriculture and fishing, as the Taoiseach pointed out during the " refueling Iraqi-bound planes" debate.

The Success of our Gaeltachts is the level-headed approach adopted by all involved in every aspect of life.

Operating a philosophy of bilingualism, wherever it's needed, has been quietly practiced for many years, from play school to college and beyond, and has created a comfort zone for all living in the Gaeltacht.

"Compulsory Irish" is no more. Further examples of bilingualism have surfaced in recent years, most notably TG4 and Radio Na Gaeltachta, with great success.

Also Udaras Na Gaeltachta have long adopted a trilingual approach to entice foreign investment into the Gaeltacht from anywhere possible in the globe to create employment, thereby keeping the home fires burning in the remote Gaeltachts of Ireland.

The mix of Irish and English is a major plus and makes us different.

That difference has been cleverly harnessed over many years and marketed discreetly nationally and internationally to great effect.

It is a pity our Minister for the Gaeltacht can't see how we have moved from "the crossroad dancing" promoted by his grandfather, to a great multicultural, cosmopolitan society and stop pushing his Irish only signs and maps down our bilingual throats.
Sean O Muirceartaigh, Lord Bakers Restaurant, Dingle. 19th October 2005