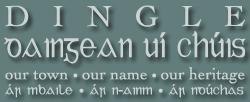 Dingle: Our Town - Our Name - Our Heritage
DINGLE DAINGEAN UI CHUIS.
If you would like more information about the Dingle peninsula, please visit the Dingle Peninsula Web Site.


"The Dingle Wrangle:"
The Irish Times (The Dingle Letters)
5/25/2005

Madam

Further to the report in your edition of May 20th, "Minister insists on Irish version of Dingle", it may be worth noting that Dingle is a name which has been in continuous use for more than 400 years, though often in forms such as Dingle i Couch or Dinglecoche, which reflect what is perhaps the most "correct" name, Daingean Uí Chúis (variously described as the fortress of O'Cush or Hussey).
Steve MacDonogh, (Author of The Dingle Peninsula),
Lispole, Co Kerry.