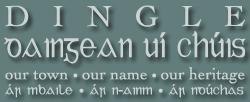 Dingle: Our Town - Our Name - Our Heritage
DINGLE DAINGEAN UI CHUIS.
If you would like more information about the Dingle peninsula, please visit the Dingle Peninsula Web Site.


Removing the name Dingle
The Irish Independent (The Dingle Letters)
3/9/2006
In 1287 the town of Dingle paid é12.00 in Customs Duties. To put some perspective on this, Dingle had been trading with France and Spain for centuries before America was discovered, - By Christopher Columbus.

Has the ancient name of Dingle been officially abolished? The 2005 Placenames Order decreed that the name Dingle shall no longer have any "legal force or effect." The name Dingle is now prohibited in all Acts of the Oireachtas and Statutory Instruments and shall henceforth be removed from all official maps of Ireland, namely Land Registry Maps and Ordinance Survey Maps.

The name Dingle is now illegal on all local Authority signposts throughout the country. Is there a town in Ireland called Dingle anymore? No.

At last months An Daingean District Court, District Justice O'Connor accepted that there is no longer a District Court Area of Dingle, that Dingle has no "legal force or effect" and he conceded that Dingle is now "obsolete."

Last October, Minister O'Cuiv met a delegation from The Dingle name Committee, myself, Fergus O'Flaithbhertaigh, and Micheal O'Granbhil. At that meeting, the Minister himself told us to get it into our heads that there was no such place as Dingle or Daingean Ui Chuis by law, and there was no point in having official signposts to a town that didn't legally exist.

After seven centuries of history, tradition and recognition, Dingle has been fairly well scuppered by the 2005 Placenames Order.

Ironically, the same Order decreed that all other towns in Ireland should have equal status and recognition given to their Irish and English placename!
KATE O CONNOR,
DINGLE,
CO. KERRY