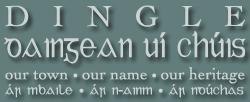 Dingle: Our Town - Our Name - Our Heritage
DINGLE DAINGEAN UI CHUIS.
If you would like more information about the Dingle peninsula, please visit the Dingle Peninsula Web Site.


Save Dingle From Meddling Minister
The Irish Independent (The Dingle Letters)
6/16/2005
Sir

I am a fluent Irish speaker, born and raised in the Dingle Peninsula. I write to you to express my absolute dismay at the high-handed disregard that Minister O Cuiv has shown to the people of Dingle regarding his attempts to erase Dingle from all official records and directional signposts.

This is the largest town in An Ghaeltacht with more Irish being spoken there now than 20 years ago. Dingle and the peninsula have remained faithful to the Irish language and this is verified by the fact that one may conduct one's business through Irish in the town, in the shops, cafes, bars, hotels, chemists, solicitors, hospitals, local mart, etc.
While the further promotion of the Irish language is important, it is in a different order of importance than the livelihood of families. The right to earn one's living is much more important than the right of the Minister to declare that the name of Dingle will be no more.

The people of the peninsula depend very heavily on the tourist industry for their bread and butter. The tourist industry employs well in excess of 50% of the working population and is now worth €100m to our local economy. This industry needs to be supported, not threatened.

Twenty years ago we trusted the Government with the farming and fishing industries. In 1985 we had 612 dairy farmers supplying milk to the creamery. Now we have only 160 farmers supplying milk. In 2005 we have a strong and vibrant tourist industry and once again the Ministers are starting to meddle.

The greatest asset the Gaeltacht areas have is that they are bilingual and this is our unique selling point. It would seem reasonable and practical that the Minister would allow bilingual signs for Dingle to continue to assist tourists looking for Dingle or Daingean Ui Chuis. I am calling on the Ministers concerned to see sense in this matter and not to force this ludicrous idea down people's throats, an approach which hasn't worked before and won't work now either.
Seamus Cosai Fitzgerald. Glens, Dingle, Co Kerry.