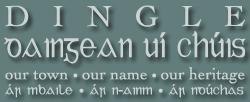 Dingle: Our Town - Our Name - Our Heritage
DINGLE DAINGEAN UI CHUIS.
If you would like more information about the Dingle peninsula, please visit the Dingle Peninsula Web Site.


An Daingean or Dingle?
The Irish Independent (The Dingle Letters)
7/1/2005
Sir

From the foundation of the State, the issue of whether An Daingean was the capital of the West Kerry Gaeltacht or an Anglophone bastion on its edge remained unresolved.

Ironically, the understanding that the former was the case led to many local initiatives, which should perhaps have been located further west (or further east), being located in that town. As a result, the amount of Irish spoken there compares favorably with other English speaking areas.

If it is indeed the will of the residents of An Daingean that it no longer be deemed a Gaeltacht area (a move which many would argue would be a simple matter of the law according with the facts), then it will be done, but to insist that the town remain in the Gaeltacht while rejecting its authentic name is farcical.
Daithi Mac Carthaig, Uachtaran Chonradh na Gaeilge, Baile Atha Cliath 2,