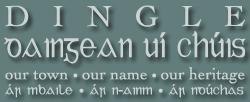 Dingle: Our Town - Our Name - Our Heritage
DINGLE DAINGEAN UI CHUIS.
If you would like more information about the Dingle peninsula, please visit the Dingle Peninsula Web Site.


DINGLE NAME CHANGE AND TOURISM
The Kerryman (The Dingle Letters)
3/10/2005
The ongoing tourist imbalance in the Island is getting greater as each year goes by. Last year two thirds of all tourists visiting Ireland holidayed in the greater Dublin area, leaving the West of Ireland struggling to fight for its share of the remaining 30%

Remote and beautiful areas of the South West like the Dingle Peninsula has to keep up with the cutting edge to entice it's share of a shrinking industry, which also our biggest employer. Having worked in the Hotel and Restaurant industry for over 35years and been involved in a voluntary capacity with marketing Dingle/Daingean Uí Chúis all over Ireland, the UK and USA with many wonderful people from the Peninsula whose only agenda was to keep life and employment in the West Kerry Gaeltacht. This has been done to great effect, and the results speak for themselves. We were always conscious that nature was generous to the Dingle area, and National Geographic Traveller once mentioned in its cover page that it was "the nicest place on earth." It mattered little what city we put up our stall, played our promotional videos, handed out our brochures and package deals and interacted with the curious visitors to the stand. This would follow with TV and radio interviews; it was always a pleasure to promote Dingle. It was always an easy not to crack, mainly because it is so easy to pronounce and remember it's got a great ring to it.

Over the past few months I have listened to Minister O'Cuiv pontificating on how we in Dingle can still go out and market the area, and wait for it, use Dingle any time and any place we wish, and in the same breath the Minister quickly points out that the place name Dingle can no longer appear on road signs anywhere in Ireland. He states "that's the law" – his law.

So when an effective promotional campaign is over at great cost and our tourists begin arriving in Ireland , many hiring out cars and minibuses to seek out the "nicest place on earth" there ain't a road sign to be seen. It's a Kerryman joke, except it's not a joke – it's daft. Thank God for the 1946 local Government Act which allows a plebiscite on such matters and a special word of thanks to our Kerry County Council elected embers, who supported and displayed a common sense, level-headed approach to this Act. I have no doubt that the plebiscite will be carried by over 80% of those participating The Minister has hinted that he will ignore the outcome based on the advice from the AG's office. This will be a serious matter in a so-called modern democracy. The local community cherish the name Dingle/Daingean Uí Chúis and so do I and why shouldn't we. It's internationally renowned and the Cora Dhuibhne Gaeltacht is the richer for it.
John Moriarty
Dingle
(John Moriarty is PRO of Coiste Daingean Uí Chúis, Dingle. He has been involved in the promotion of Dingle Tourism at home and abroad for many years.)