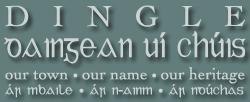 Dingle: Our Town - Our Name - Our Heritage
DINGLE DAINGEAN UI CHUIS.
If you would like more information about the Dingle peninsula, please visit the Dingle Peninsula Web Site.


On the Road to Nowhere:
The Irish Independent (The Dingle Letters)
10/29/2005
A Chara

What do Dingle and Tir na nOg have in common?

Legend has it that when Oisin went off to Tir na nOg with Niamh Chinn Oir, Fionn Mac Cumhail was so angry that he had Tir na nOg removed from all maps and signposts all over Ireland.

The people in Tir na nOg put up huge signs there, in five different languages, welcoming people to Tir na nOg, but it was no use, because nobody could ever again find the right road to Tir na nOg.
Kate O Connor, Dingle,