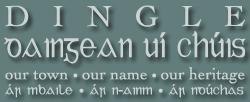 Dingle: Our Town - Our Name - Our Heritage
DINGLE DAINGEAN UI CHUIS.
If you would like more information about the Dingle peninsula, please visit the Dingle Peninsula Web Site.


Nothing to stop bilingual signs in An Daingean
Sunday Independent (The Dingle Letters)
12/4/2005
Sir - There are a number of wholly inaccurate statements in the article 'Ó Cuiv's An Daingean . . .' (Sunday Independent, 27/11/05) which I would like to address.

Your reporter states that only four families in An Daingean use Irish as a home language and further states that there are now just over 2,000 native Irish-speaking families left in the Gaeltacht who use Irish as their first language.

The fact is that Scéim Labhairt na Gaeilge, to which the article refers, is in no way intended to be a scientific measure of the number of Irish-speaking families in the Gaeltacht. Only families who live in the Gaeltacht and who have children attending primary or secondary school are entitled to apply for this grant. Your reporter has chosen therefore, to ignore all families with children under five, all families with children who have left school, all couples with no children, all people living alone and all so-called house shares.

He has also ignored all those eligible families who chose, for one reason or another, not to apply for Scéim Labhairt na Gaeilge and all families who received the deontas laghdaithe or reduced grant, which is paid to families who do not reach the level of fluency required under the scheme, but of whom the Department is confident that they are capable of achieving the appropriate standard within a period of three years.

Your reporter states that "A meeting between local people and Minister Ó Cuív ended with the Minister refusing to allow the erection of bi-lingual signs for An Daingean/Dingle inside or outside the Gaeltacht" and that he asked "Why would I allow signs to a town that doesn't exist?".

I was present at that meeting and I can confirm that the Minister in fact expressly stated that there was nothing to stop anyone putting up bilingual signs for An Daingean/Dingle anywhere they wished. He clearly explained that the only circumstance in which signage must be in Irish only, is on a road or street sign erected by or on behalf of a local authority.

As for the charge that "a worldwide brand was being abandoned on a ministerial whim": Minister Ó Cuív has stated time and time again, the Order has no implications at all for use of 'Dingle' as a brand for tourism or other purposes.

Your reporter says that Minister Ó Cuív "has already said he will ignore the results of the plebiscite approved by Kerry Co Council". This is completely untrue. Minister Ó Cuív has repeatedly explained that on foot of legal advice from the Attorney General's Office, a plebiscite in this case would have no legal standing. To reiterate the legal advice he received from the AG's office is a far cry from saying he will "ignore" the plebiscite.
Éadaoin Ní Mhonghaile, Media Adviser, Department of Community, Rural and Gaeltacht Affairs. 4 December 2005.