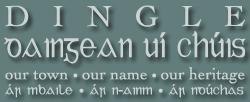 Dingle: Our Town - Our Name - Our Heritage
DINGLE DAINGEAN UI CHUIS.
If you would like more information about the Dingle peninsula, please visit the Dingle Peninsula Web Site.


Kerry debate goes Dingle/Daingean
Sunday Independent (The Dingle Letters)
12/11/2005
A Chara - We refer to Eadaoin Ni Mhonghaile, Media Adviser to the Department of Community, Rural and Gaeltacht Affairs' letter regarding bilingual signs in Dingle and our meeting with Minister O Cuiv. At the meeting, we met with and spoke to three men, Minister O Cuiv, Mr O Cuiv's private secretary and the regional Roinn na Gaeltacht Inspector, Mr Oliver O'Herlihy.

Breandán Mc Gearailt a local Fianna Fail councillor was also present. The Minister's media advisor did not participate in, and was not present throughout all of the meeting.

It was, in fact, Minister O Cuiv's private secretary who said that there was nothing to stop us from putting up our own private signs for Dingle. We replied that we could not go around the county of Kerry, putting up our own private signs for Dingle at every roundabout and crossroads in every regional town in Kerry, as this was not practical or feasible and was against the law. The three men accepted this point.

When we asked the Minister if he would allow the Local Authority bilingual road signs for Dingle remain in the regional towns of Kerry, outside the Gaeltacht, the Minister told us to get it into our heads that Dingle doesn't legally exist anymore, it's now An Daingean, and there was no point in having official signposts to a town that didn't legally exist.

Naturally, we do not accept this. All towns (except in the Gaeltacht) have both their Irish and English placename equally recognised by the state, and we fully intend to reinstate our rightful historic names of Dingle and Daingean Ui Chuis.
Fergus O Flaithbheartaigh, Micheál O Grainbhil agus Kate O'Connor, Dingle, Co Kerry.