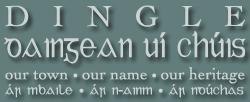 Dingle: Our Town - Our Name - Our Heritage
DINGLE DAINGEAN UI CHUIS.
If you would like more information about the Dingle peninsula, please visit the Dingle Peninsula Web Site.


Dev Óg Takes On Those God-daingeaned Dinglers:
The Irish Examiner (The Dingle Letters)
7/20/2005
IT is proper that the state alone should possess the apparatus of coercion and that it should apply it as and when needed on behalf the citizen and society in the protection of life, liberty and property.

Whether the apparatus of state should be employed in suppressing the word 'Dingle,' and replacing it with 'Daingean' (at least within the confines of the 'Dingle' Gaeltacht) is an issue perhaps less morally clear to the average citizen, but then, the Minister for the Gaeltacht, Eamon Ó Cuiv, is not your average citizen.

Certainly he is possessed of great moral certainty.

Of course there are precedents for using state power to encourage cultural reformation, even revolution Mr Mao's efforts spring immediately to mind, as do the great (albeit less dreadful) efforts of the educationalists who sprang 'Peig' on an unsuspecting and youthful population.

My advice is this: if the thing is to be done at all, then it should be done properly.

By ministerial directive, of course, no such town as 'Dingle' has officially existed since last Easter, and plans are well advanced to remove all road signs marked 'Dingle' and replace them with 'Daingean' but this isn't nearly enough.

It is surely now imperative to reform once and for all the verbal habits of the hapless, misguided, dolphin-worshipping and (supposedly) Irish-speaking inhabitants of that remote, God-forsaken peninsula.

With the minister at its head, a battalion of Irish-speaking volunteers drawn from the army should immediately march on the town formerly known as Dingle.

Trust me on this: nothing incentivises a population like looking up the barrel of a machine gun (That happens to be an old maxim of mine).

Trenches would have to be dug and machine gun nests and a tannoy system installed before the minister, feeling the 'urge to purge' coming upon him and adjusting his spectacles with a querulous gesture, could climb onto an army wagonette to scream at sorry, I mean, address the town's populace in tones that curiously bring to mind his late grandfather: "Tar amach!

"Tar Amach! Come out, come out, with your hands up and your dingles daingean-a-ling!"

Then the entire populace must be put on a diet of Irish irregular verbs. This, combined with forced marches through the more desolate wastes of Ms Sayers' great opus, will take those daingeaned Dinglers down a 'peig' or two.

As for that creature you know, the one formerly known as the Dingle Dolphin I'm afraid that he is rapidly going to lose the respect of all fair-minded Irish speakers, and the minister himself, unless he also cops himself on, changes his tune, gets the flipper out, so to speak, and at the very least makes a genuine effort to echo-locate as Gaeilge.

Trust me, Mr Minister, the use of force is both morally correct and culturally necessary in this instance and the people will actually thank you for it later.

Indeed, to paraphrase the popular song: "In the Dingle-Daingean morning they'll be following you."
Stan Reynolds. The Old Schoolhouse, Toames West, Macroom, Co Cork. Wednesday, July 20, 2005