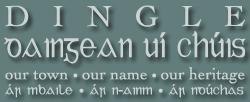 Dingle: Our Town - Our Name - Our Heritage
DINGLE DAINGEAN UI CHUIS.
If you would like more information about the Dingle peninsula, please visit the Dingle Peninsula Web Site.



The Irish Examiner (The Dingle Letters)
11/9/2005
It's As Easy A,B,C, And V:
Sir

As a child going to school I was taught many things. Not all of them were of interest to me at the time, nonetheless I tried to grasp the essentials of maths, English and Irish.

I just realised that our Minister for the Gaeltacht, Eamon O Cuiv, who regards himself as an Irishman, who dares to change the names of many towns and villages around the country, has inherited an Anglo version to his name and single-handedly introduced the letter V into the Irish vocabulary.

The letters V, X, Y, Z, were never considered to be part of the Irish language and were not used in any Irish words, yet Mr O Cuiv and his descendants have stealthily adopted the letter V into their Irish vocabulary. Did anybody notice? No. Why then should we change any of the towns and villages names to suit an Anglo-Saxon who doesn't even know his A,B,C's or V's?
Cathy Daniel. Enfield, Co Meath.
Wednesday 9 November 2005