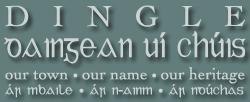 Dingle: Our Town - Our Name - Our Heritage
DINGLE DAINGEAN UI CHUIS.
If you would like more information about the Dingle peninsula, please visit the Dingle Peninsula Web Site.


"…in relation to the spelling of my name."
The Irish Examiner (The Dingle Letters)
8/30/2005
I REFER to the letter by Denis Healy (Irish Examiner August 11th) in relation to the spelling of my name.

In relation to An Leitriu Shimpli as devised by the people mentioned in my original reply to Mr. Healy, I can absolutely confirm to him that all letters of the English alphabet were used in this particular form of spelling.

My grandfather, Shan O Cuiv, adapted this form for his name which was carried on by my father, and which is the name registered as my father's surname on my birth cert.

I am proud to be one of the third generation to carry on this form of the name, as it is a reminder of the work done by Shan O Cuiv and others to develop the Irish language and 'modernise' it in the early part of the 20th century.

Of course the form a person chooses or their name is absolutely their own prerogative, and name forms have changed dramatically over the years.

For example, your correspondent uses the form Denis Healy. One could ask the question, similar to the question he asked about O Cuiv, as to why he doesn't use Donncha O hEalai Or Doncha O hEalaithe?

In the meantime, I will continue to use with pride the surname bestowed on me at birth by my parents.
Eamon O Cuiv Aire Gnothai Poail Tuaithe agus Gaeltachta Dublin 4. 30th August 2005