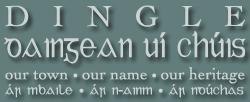 Dingle: Our Town - Our Name - Our Heritage
DINGLE DAINGEAN UI CHUIS.
If you would like more information about the Dingle peninsula, please visit the Dingle Peninsula Web Site.


Whether to 'v' or not to 'v',
The Irish Examiner (The Dingle Letters)
9/3/2005
I REFER to the letter by Community, Rural and Gaeltacht Affairs Minister Eamon O Cuiv (Irish Examiner August 30th) in answer to my letter published on August 11.

In response to the question whether to 'v' or not to 'v', Mr O Cuiv states..."I will continue to use with pride the surname bestowed on me at birth by my parents" Equally, shouldn't the people of Dingle continue to use with pride the name bestowed on them by history? Mr. O Cuiv please do it correctly. In the annals, Dingle is called Daingean Ui Chuis. If you choose to shorten this, it would be Daingean, not An Daingean. (Actually the Irish form Daingean was anglicised Dingin which, in turn, became Dingle.) For tourists, wouldn't it be advisable to have Daingean in big letters to emphasise the Gaeltacht aspect and Dingle in smaller block letters as a travel aid?

Finally, I also use the name bestowed on me at birth by my parents. It is not in Irish since I was born in Butte, Montana USA, where the number of Irish speakers was as few as the number O Cuivs in the greater O Caoimh clan.
Denis Healy Corkmacsherry Cork, 3rd September 2005