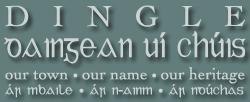 Dingle: Our Town - Our Name - Our Heritage
DINGLE DAINGEAN UI CHUIS.
If you would like more information about the Dingle peninsula, please visit the Dingle Peninsula Web Site.


Banning the Name Dingle is "Undemocratic":
The Kerryman (The Dingle Letters)
9/29/2005
Sir

I refer to comments by Sinn Fein's Micheal Mac Donncha (The Kerryman, September 22) regarding the proposed Daingean Ui Chuis/Dingle plebiscite, where he says that the Government has not banned the name Dingle.

Minister O Cuiv states that, "the effect of the Order is that the English language version of a placename no longer has any legal force or effect." The name "Dingle" is "no longer permissible in: Acts of the Oireachtas, Statutory Instruments, Road and street signs erected by local authority, and prescribed maps produced by Ordnance Survey Ireland." In other words the name Dingle, as far as the State is concerned, is abolished.

The Placenames Order goes against the natural democratic protections that have been put in place over the years by The Local Government Acts, these being that; a placename cannot be changed unless over 50% of the County Council agree to the change, a public notice is published and submissions received, a plebiscite of the local community affected is held and over 50% of the people of that area agree to the change of placename.

While Sinn Fein have taken the stand that the democratic wishes of the people of an area can be ignored, thankfully, the majority of people and Councilors in Kerry are committed to upholding true democratic principles, and are in favour of Dingle being allowed it's right to vote on whether they want the name Dingle abolished, or put in the bilingual form of Daingean Ui Chuis/Dingle.
Kate O Connor, Dingle