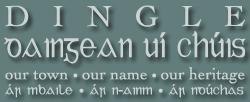 Dingle: Our Town - Our Name - Our Heritage
DINGLE DAINGEAN UI CHUIS.
If you would like more information about the Dingle peninsula, please visit the Dingle Peninsula Web Site.


Request for 'Éire Ireland' to be used at EU meetings
The Irish Times (Dingle in the News)
6/28/2006
The Government is to request that Ireland be referred to as 'Éire Ireland' on all future nameplates and signage used at official European Council and Council of Minister meetings.
The move follows the elevation of Irish to official and working language status in the European Union, which comes into force from January next year.
It will be one of three countries to use dual language nameplates at council meetings.
Traditionally, the nameplates of countries at such meetings are in their native language, although both Belgium and Finland, which both have two official languages, use both in their nameplates.
At present the Taoiseach and Ministers sit behind nameplates with "Ireland", but as part of the Government's ongoing campaign to promote the use of Irish at European level, it is to request bilingual nameplates at meetings from next January.
A Government spokeswoman said the change reflected the use of Éire as the official name of the State on documentation such as passports and on coinage.
Details of the proposed change are to be outlined by Minister for Foreign Affairs Dermot Ahern later this week.
The change is not expected to affect the speaking order for meetings, which is arranged alphabetically.
Irish's status as an official language of the EU will be a slimmed-down version of the major official languages, and will not involve the translation of all official documentation.
However, from 2007 all primary legislation and regulations approved by the Council of Ministers and the European Parliament will be translated.
Irish Ministers and MEPs will be able to use Irish on request during council meetings and European Parliament plenary sessions.
Liam Reid, Political Reporter