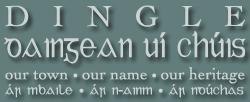 Dingle: Our Town - Our Name - Our Heritage
DINGLE DAINGEAN UI CHUIS.
If you would like more information about the Dingle peninsula, please visit the Dingle Peninsula Web Site.


"It is An Daingean, full stop,"
The Irish Times (What people have said)
5/1/2005
"It is An Daingean, full stop," ... "People can not insist on retaining "Dingle" on signposts outside the Gaeltacht, but there is a possible solution, if that is the wish of the community, and that is to begin legislation to take An Daingean out of the Gaeltacht altogether. Even this might not be enough to change the legal status of the placename."
EAMON O CUIV MINISTER FOR THE GAELTACHT