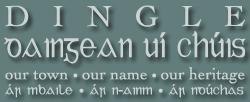 Dingle: Our Town - Our Name - Our Heritage
DINGLE DAINGEAN UI CHUIS.
If you would like more information about the Dingle peninsula, please visit the Dingle Peninsula Web Site.


Dingle to vote on bilingual name idea
The Irish Examiner (Dingle in the News)
6/20/2006
Kerry County Council yesterday announced details of a postal vote to be carried out in the town between October 9 and October 19.

Gaeltacht Minister Eamon Ó Cuiv has already decided to change the official name of Dingle to An Daingean.

He has also said the result of the plebiscite won't matter and has refused to change his mind, despite a strong campaign against his decision.

Kerry county manager Martin Riordan warned councillors that the outcome of the plebiscite would have no impact, but they voted 20-to-one in favour of giving the townspeople their say.

Voters will be asked if they want the name to be the bilingual 'Dingle/Daingean Ui Chuis'.

The issue has created division in the Dingle Peninsula Gaeltacht, where tourism interests, in Dingle town especially, want to retain the English version and have signage and maps to be in both languages.

Members of a local lobby group seeking to have Dingle named bilingually were in the public gallery for yesterday's council meeting.

Council corporate services director John Flynn said a "substantial amount of ground work'' has to be carried out before the list of qualified electors can be put on public display.

Dingle town is in the Gaeltacht and, as such, qualifies for grants of €4m to €5m annually. Minister Ó Cuiv has warned, however, that a Gaeltacht town cannot have an English name.

If the English name is retained, Dingle runs the risk of being excluded from the Gaeltacht in a boundaries review to be carried out by Mr Ó Cuiv next year.
The Irish Examiner