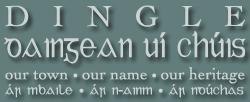 Dingle: Our Town - Our Name - Our Heritage
DINGLE DAINGEAN UI CHUIS.
If you would like more information about the Dingle peninsula, please visit the Dingle Peninsula Web Site.


How to resolve the town name problem
The Irish Examiner (The Dingle Letters)
6/5/2006
THE three spokespersons for Coiste Daingean Uí Chúis, Dingle say they want Irish-only signposts within the Gaeltacht and bilingual signposts outside it.

As 'An Daingean' is officially in the Gaeltacht, however, they are in fact contradicting their own argument.

The solution to this whole mess is to change the official Gaeltacht borders and, in doing so, take the likes of An Daingean/Dingle out of the Gaeltacht altogether. That way, the people of An Daingean/Dingle are not bound by 'Irish-only' signposts in their region. Any Gaeltacht community worth its salt would clearly have a preference for the Irish language version of their town name.

The second is that, in spite of the Placenames Order in the Official Languages Act, there is nothing in the legislation preventing the people of An Daingean/Dingle from using the English language version of their home town for the purposes of tourism and advertising.

For some reason, the phrase "wanting to have your cake and eat it" springs to mind when I think of all the noise these 'Gaeltacht' residents are making.
Kevin Hickey
51 Larchfield Road
Goatstown
Dublin 14