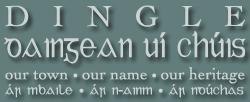 Dingle: Our Town - Our Name - Our Heritage
DINGLE DAINGEAN UI CHUIS.
If you would like more information about the Dingle peninsula, please visit the Dingle Peninsula Web Site.


Dingle is more than an obscure townland
The Irish Examiner (The Dingle Letters)
5/3/2006
GAELTACHT Minister Eamon Ó Cuiv has referred to Dingle being only one of 2,319 placenames changed by his order on the exclusive use of Irish names.

It is nonsense for him to suggest that the town of Dingle, which has been known internationally for centuries, should be placed on par with more than 2,000 townlands which are largely unknown, with many lacking even a single dwelling.

Democracy is exercised through the expressed wish to the majority of the people concerned, not by ministerial decree imposed from above.

The minister says the attorney general has informed him it is not now legally possible to restore our name.

Since it was the minister himself who designed and guided the relevant act through the Oireachtas and then made the order removing our name, such a claim was scarcely flattering to our intelligence.

The truth cannot be buried in a mountain of verbiage, and I ask the minister to reply to two questions:

1. Is it in the power of the Placenames Commission to recommend the restoration of the name 'Dingle'?

2. Will the minister accept the democratic decision of the people of Dingle, when expressed in the plebiscite now being arranged by Kerry County Council, as provided for in the Local Government Act 1946?
Peter J Callery
Green Street
Dingle
Co Kerry